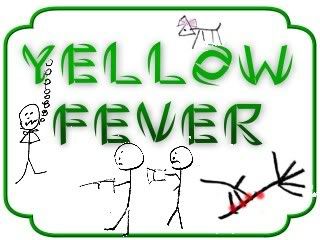 Viddler ~ @SVS ~ @Supernaturalvid ~
Master List

Video Title: Stick!Yellow Fever
Song: Owner of a Lonely Heart
Artist: Yes
Summary: Stick!Dean gets a case of ghost sickness. Sam and Bobby have to save him before he goes mad and his heart explodes.
Length: 4:12
File Size: 31MB
OK. Took a different aproach to this one. Watched the ep through twice. Went looking for a script. Took the text I wanted to use and built a structure round that.
Now there is NO law subplot. Still kinda makes sense.
Then I did a couple of scenes at a time. Usually I draw the whole lot then do editing. The doing in sections took longer, but I like how it turned out.
Stuff that surprised me like an albino snake on the sofa:
Stick!Doggy!
S4 titles!
Whole ending credits!
Stuff that made me scream like I've seen a cat in a spooky lumber mill:
Could have done with being shorter somehow.
Sam shooting Luther
Youtube not liking the music. SO it's not going there!
Comments feed ma muse and you get more vids!
~~~~~~~~~~~~~~~~~~~~~~~~~~~~~~~~~~~~
"Don't you remember all the fun you had down there? You do remember. 4 months is like 40 years in hell. Like doggy years. And you remember every second." ~ "Lilth"