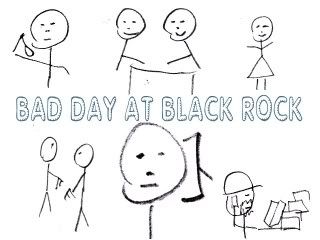 Viddler ~ Zshare ~ YouTube ~ @SVS ~
Other Stick!Winchester vids

Length: 4:57
Size: 40MB
Song: Your Lucky Day in Hell ~ Eels
Summary: Bad Day At Black Rock in Stick!Winchester style.
Comment, rec and enjoy!
It's been a while since I've done one of these. Still,turned out ok
I tried to make this one a bit shorter and use ALL the funny bits. Failed on some of that.
Something new for dis un, I've used none of my own handwriting(cept the title). It's much easier to draw out the scruffy stick men, when don't have to write as well. If I get round to making more, this be the way to go. Or do you think I should keep writing them?
Things I like:
Pan between Dean and Bela with the guns
Fonts!!
More fonts!!!
Things not so good:
Loads of funny things I couldn't draw
The song matches the vid. But I think there is a better on somewhere.
~~~~~~~~~~~~~~~~~~~~~~~~~~~~~~~~~~
It's like we got a contract on us. Think it's because we're so awesome? I think it's 'cause we're so awesome. ~ Dean